Stop #2 is at Kitsune Japanese Casual Dining. Kitsune is along Juna Avenue, Juna Subdivision.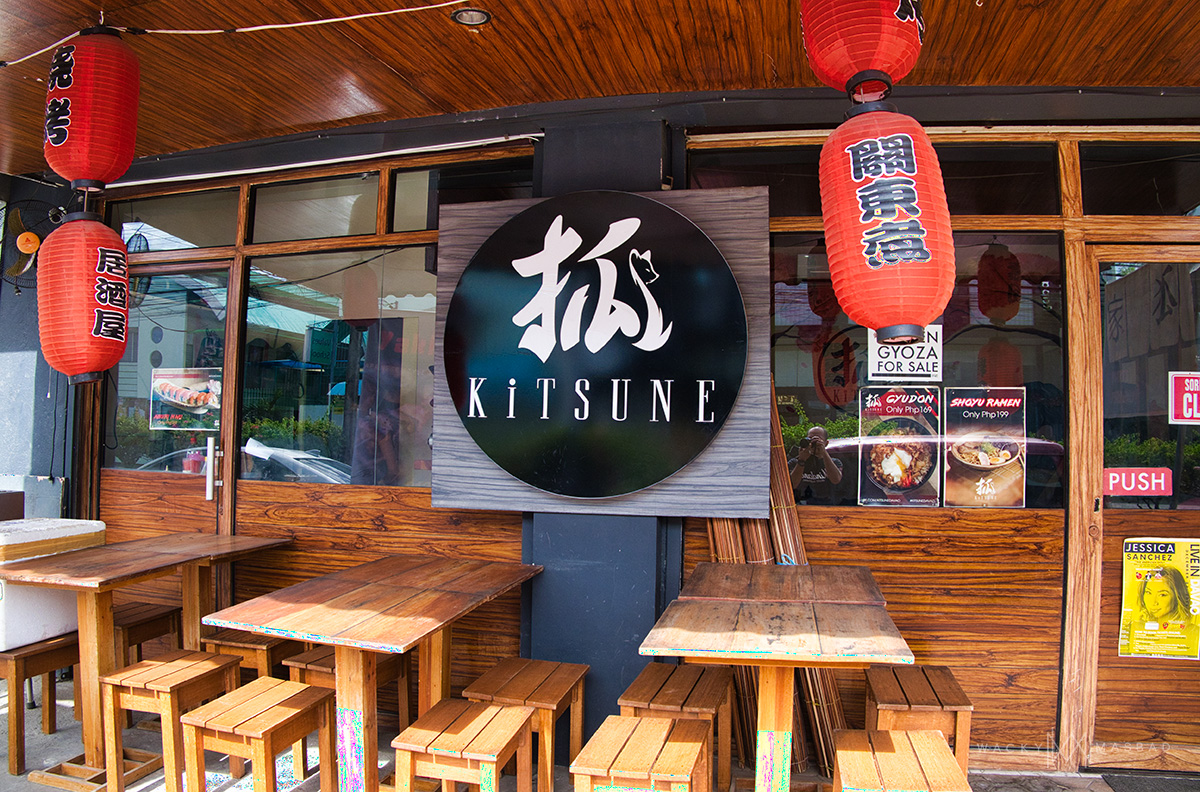 The general area of Juna Subdivisions has gone through some kind of rebirth into a go-to food stop in the city. In some ways, Juna reminds me of Maginahawa in QC. There's a place to eat in all the major streets in that subdivision. Especially so when you get closer to the university there. It's a far cry from just having Avenida at Lispher Inn to be your go-to place. I'll save Avenida for another story when I'm able to revisit.

So… Kitsune. The fox in Japanese folklore. And no, this isn't that nine-tailed fox in Naruto. Kitsune here is the messenger fox of the Japanese gods. And in our case here, Kitsune is the messenger of good food by the team behind Kitsune Japanese Casual Dining. Received the message, we did.

The afternoon was hot and humid when we arrived at Kitsune. Thankfully, the owners accommodated us during the off service hours (is that what you call it when it's outside the service window?) so it was just our group inside being cooled by the A/C. We were to sample three items from their menu. The menu, by the way, is a bit extensive. Several pages long tucked in clipboards. When you visit, take time to go through each page. Ask questions if you're not sure what you're seeing. The staff will gladly assist you.
For our quick visit, we had a taste of three of the new items on their menu – Korean Maguro Maki, Salmon Tartare Maki and the Tonkotso Tantanmien Ramen.
Korean Maguro Maki Maguro is tuna in Japanese. And this is Kitsune's Korean twist to the usual tuna maki you get at other places. I had several of this. I'm not sure exactly what I was having. I just kept on chewing and swallowing and stuffing another piece into my mouth. I think I was trying to get a finger on what exactly it tasted like. Sadly, after all those chewing and swallowing, I ended up with nothing. Nakakagigil ha! Looks like I'll be coming back for a rematch of sorts.

Salmon Tartare Maki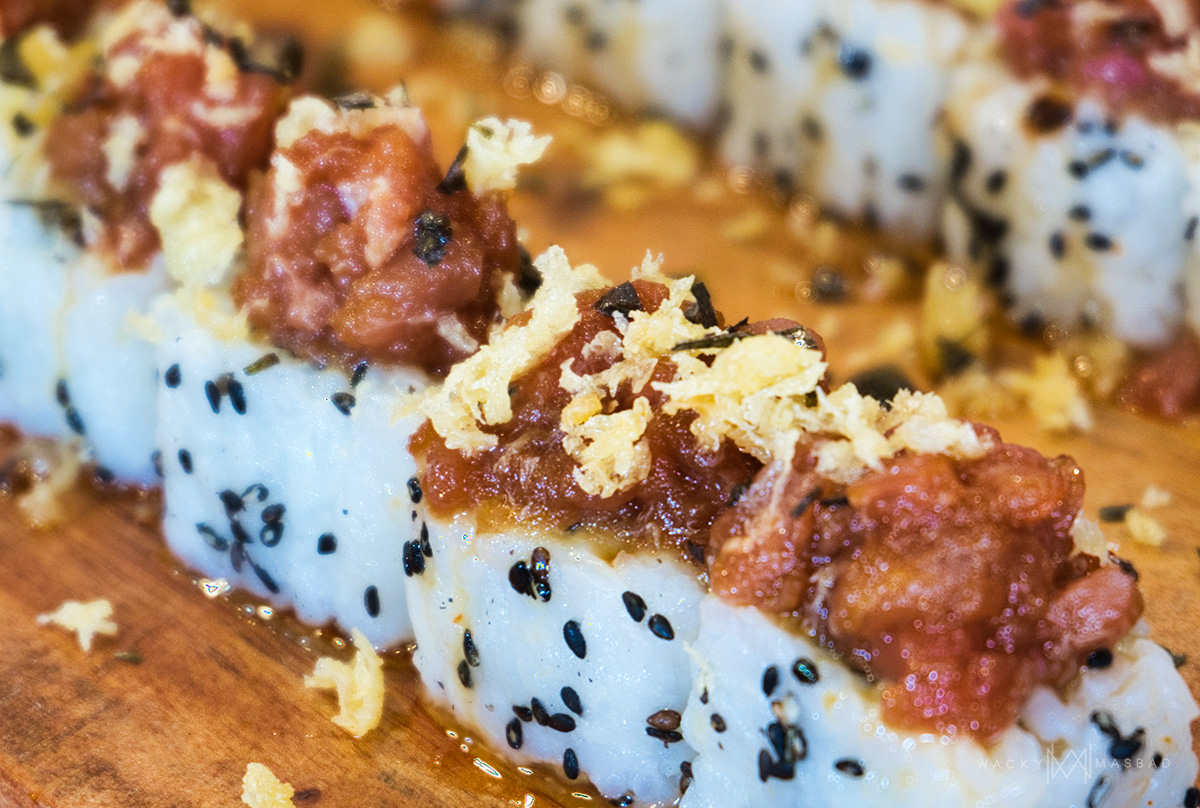 This one though is a mix for me. I think the gochugang sauce was a tad overpowering the salmon bits. I was looking for the salmon swimming more around the insides of my mouth while I was chewing. Nevertheless, this was a joy to stuff into my mouth. Mind you, I did chew my food. Chewed well, I did because my mama told me so. It was light to the mouth and to my tongue. Oh, before I forget, they sear the tops of the maki with a blowtorch before they serve it. It would've been an Instagram-that-sh** moment if it was blowtorched right at our table.
Tonkotso Tantanmien Ramen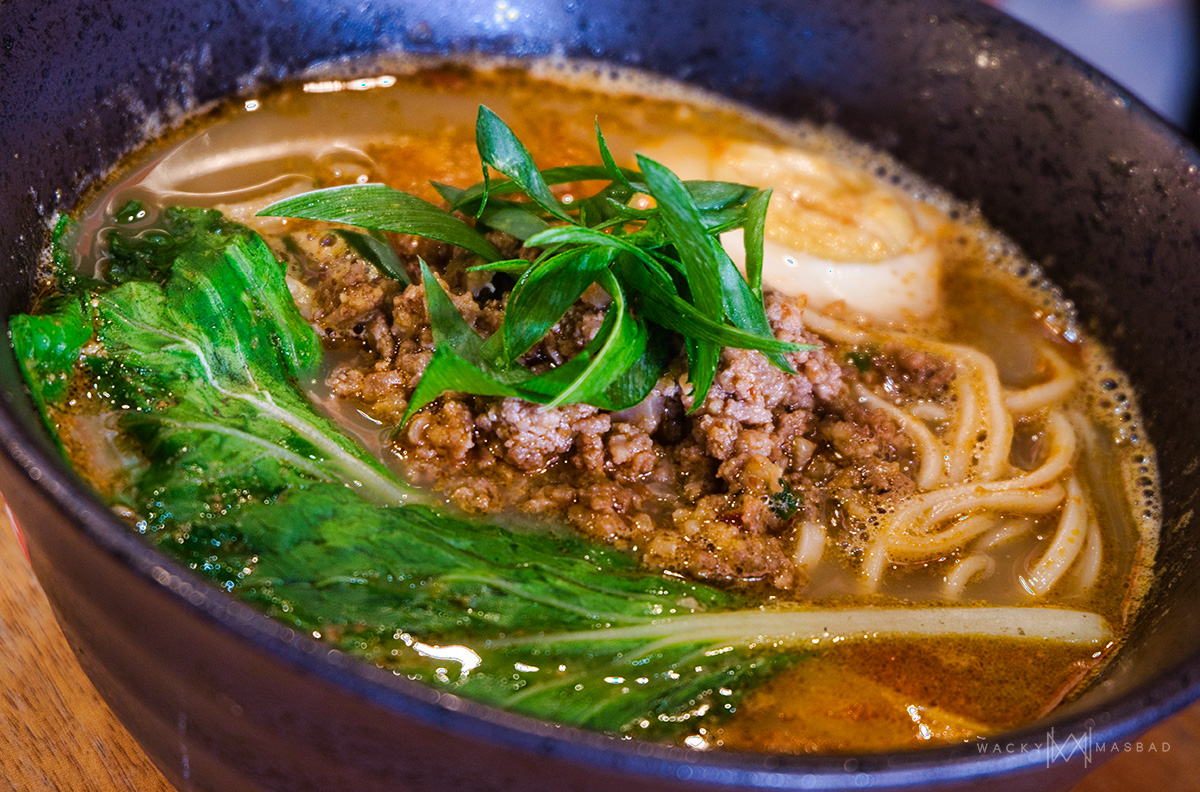 I was suprised by this bowl. Even more surprised to know that they make their own ramen noodles in-house. Yes, folks. They don't buy ready-made ramen noodles.

I like and love it when Japanese diners and restaurants make their own noodles. I think it lends more to the authenticity of the ramen. I think that's the reason why some will find Kitsune's ramen noodles to be "gahi", "matigas". It's not, if you ask me. It's firm, yes. But not hard. That firmness is needed so the noodles can stand up to the heat of the broth and won't go super soggy before you can even finish your bowl of ramen.

The broth was just right for me. Thick enough with flavor and with a bit of spicy kick in there to keep your head down on that bowl and slurp away. Pro tip: if and when you order this particular bowl of ramen, start slurping away while it's still hot from the kitchen.

Kitsune Japanese Casual Dining is open Monday to Sunday from 11AM to 2PM and 5PM to 10PM. You can message them on Facebook or call/SMS them at 0942 049 0846. They're also on Instagram – @kitsunedavao.