Davao City is filled with food spots. It's a fact. And I'd say the same thing about any other city in any other place in the world. When you visit Davao City though, take time to explore the home grown, hole-in-the-wall restaurants around the city. There's a lot, to be honest.
If you're coming back or are already in the 'hood, why not give these three food stops a quick visit.

I'm part of a community called Davao Digital Influencers. Last weekend, we started what we call the #DavaoFoodCrawl. The goal is simple. Help tell the stories of locally owned restaurants in the city; to tell the world that there's more to explore in the city's fast-growing food scene. We also aim to help promote these places to fellow Davaoeños. There's not a better set of people to promote these places but the locals themselves. Support local, as they say.
So, on a hot Saturday afternoon, we visited Shatter Kebab + Hummus, Kitsune Japanese Casual Dining and Mugshots Wine & Cafe.
Let me talk about the first one for this post.

Shatter Kebab + Hummus
Shatter, as it is popularly known, is a small hole-in-the-wall restaurant in the Davcon Compound along F. Torres Street. If you're turning into F. Torres from J.P. Laurel Avenue, look out for a small alley on your right just across Green Coffee. It's beside Yoh Froz. Click on this link for a Google Maps pin. When you're on that alley, just look for the sign.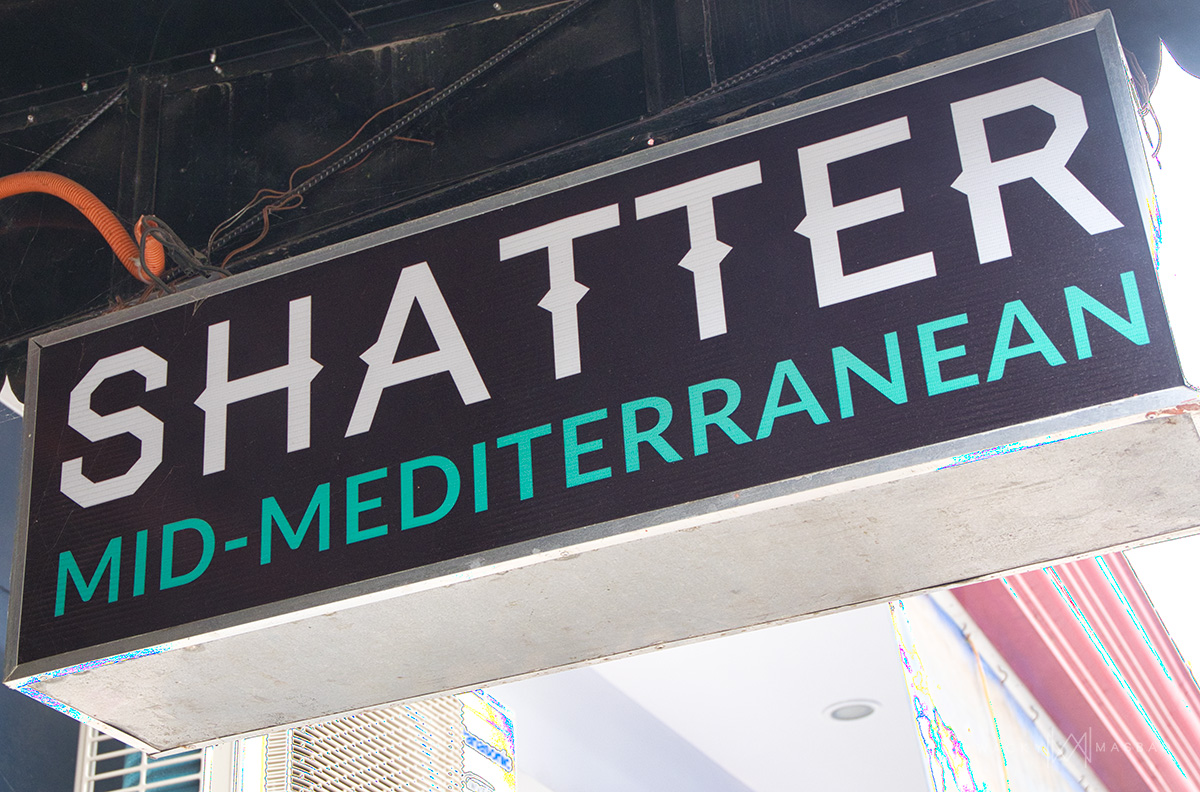 It's small inside. Just as expected of most hole-in-the-wall restaurants. I prefer it that way as well. It lends an intimate place to be in. The service usually becomes a bit more personal. And the crew at Shatter was indeed attentive when we were there. They also know what's on the menu and they can recommend items for you if it's your first time.

So, yeah. The food. We had three items off their menu. The Hummus Trio, the Ultimate Kebab Platter, the Smoked Chicken Kebab and the Shakshuka.

Hummus Trio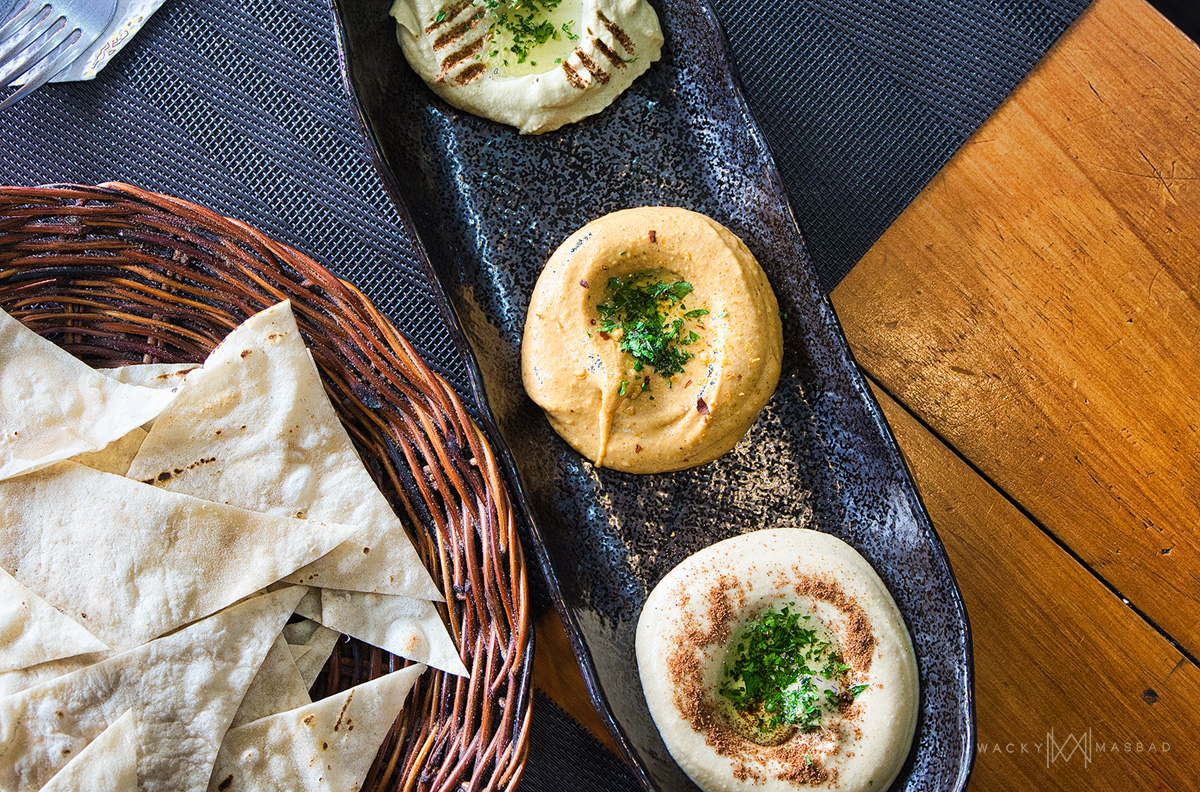 The Hummus Trio is their signature Hummus served in three ways: plain Hummus, spicy Hummus, and Baba Ganoush. The spicy bit isn't scary. It's not hot spicy. There's a mild kick and that's about it. It's enough of a kick to make you want to grab more pita bread and scrape up more of that hummus. It's enjoyable really!

Ultimate Kebab Platter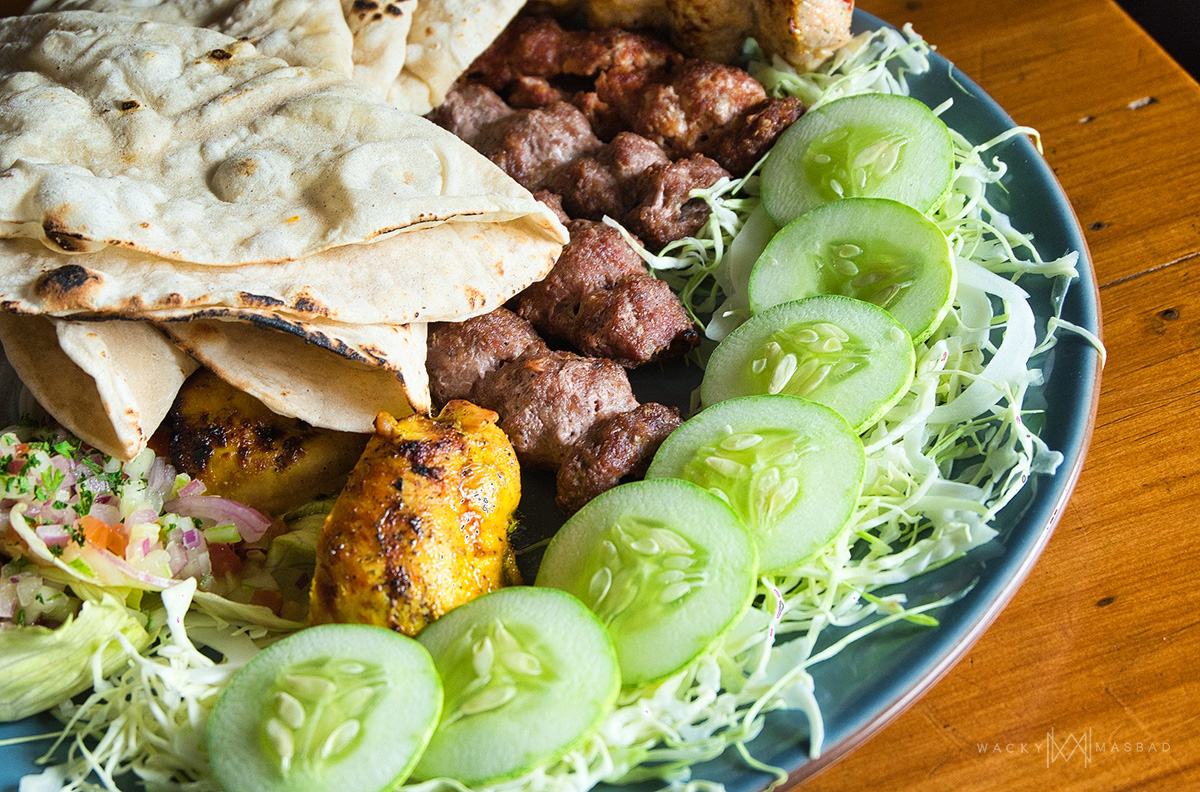 The Ultimate Kebab Platter is your barkada kebab platter. You're getting seven (7) kinds of kebabs in four (4) sticks and the requisite pita bread, roasted tomatoes and the vegetable sides. Unfortunately, I wasn't able to give any of those a try. My fellow v/bloggers were faster than I was getting one or two of those kebabs.

Smoked Chicken Kebab
I was able to get a taste of the Smoked Chicken Kebab. And boy that was delish! They used mahogany wood to smoke the chicken meat for four (4) hours and that smoky-ness is evident. Even if you roll up the kebab in the pita bread and add the sides, that smoky flavor still comes up nicely. *insert lip smack here*
My apologies if the smoked chicken meat isn't that clear in the photo. You can see some of it in the background peeking back at you as if it's teasing you to give it a try.
Shakshuka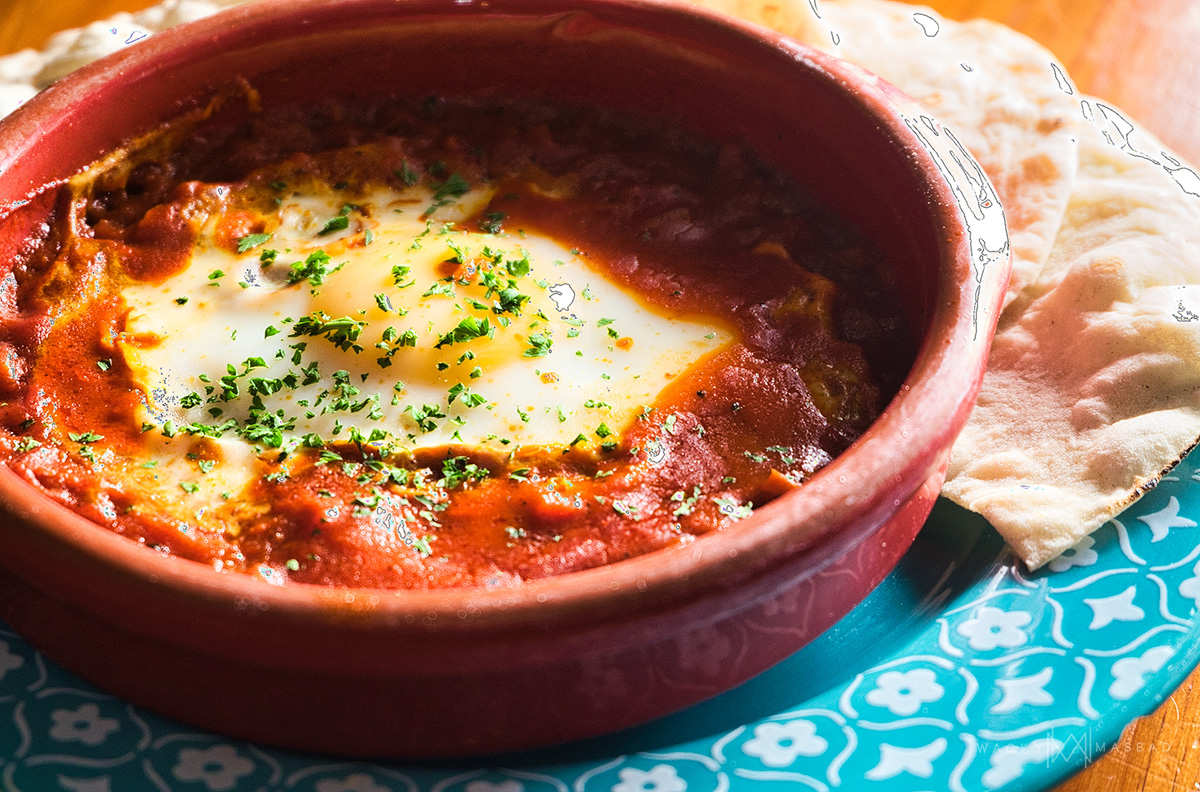 And finally, the Shakshuka. I dunno what it is exactly. It looks like a sauce or a dip to me or, maybe, thick soup? Whatever it is, it's another one of those glorious food items that makes you want keep dipping pita bread into it. And by the time you've all but eaten up everything, you'll get another piece of pita bread to scrape up (or, dare I say, "wipe") everything else that you missed in the bowl. Oh you know what I mean!

And with that, we were done. Looking back, I should've ordered for take out and had some while I was on our way to the next food stop.
Shatter Kebab + Hummus serves lunch from 11AM to 2PM and dinner from 5PM to 10PM. If you have any other questions, just send them a message.