PLDT Home, for quite some time, was offering Google Wifi as a bundled product with their home internet services. When I first learned about it back in late 2018, it was a thing to be excited about because things will get easier for regular customers to get good wifi coverage throughout their homes without too much hassle. Fast, reliable internet by PLDT and then distributed throughout the home via Google WiFi. 
According to Google Wifi's own product site, it can cover 1,500 square feet (exactly 139.35456 square meters). That's the ideal coverage, I'd say. And if your house is made of concrete with very thick walls, expect coverage to drop by a some. Because, basically, the radio waves used with wifi will degrade as they pass through dense materials like concrete. 
Anyway, with Google Wifi bundled together with your home fiber internet service, you now have the ability to fully cover every nook and cranny of your home with wifi. This means that you can roam around the house without thinking about your internet connection via wifi suddenly dropping out on you. And that's going to be a boon especially when you're on a work-from-home arrangement with your company. With a mesh wifi setup like that of Google Wifi, you can go on that video conference meeting out on your porch. You don't have to literally sit beside your wifi router just so you're sure you're getting full strength signal connection. 
Unfortunately, as I scanned through PLDT's Home Fibr website, I can't seem to find that product bundle anymore as it was reported by Yugatech last year. Google Wifi is not in any of the offering anymore. 
They do have on-offer a Whole Home Wifi package that comes with three (3) TP Link devices. That's the TP-Link Deco M5 Home Mesh Wifi System based on details supplied in the PLDT Support page. This is a Php.3099 per month package at 100Mbps download speed (bumped already from its old allocation of 50Mbps) which already includes the three TP-Link Deco M5 mesh points. I'd say that's a bargain already for what you're getting. If you have a big household with more than 10 devices at the same time needing to be online, this 100Mbps connection will carry it all without a hitch. 
Anyway, back to the Google Wifi.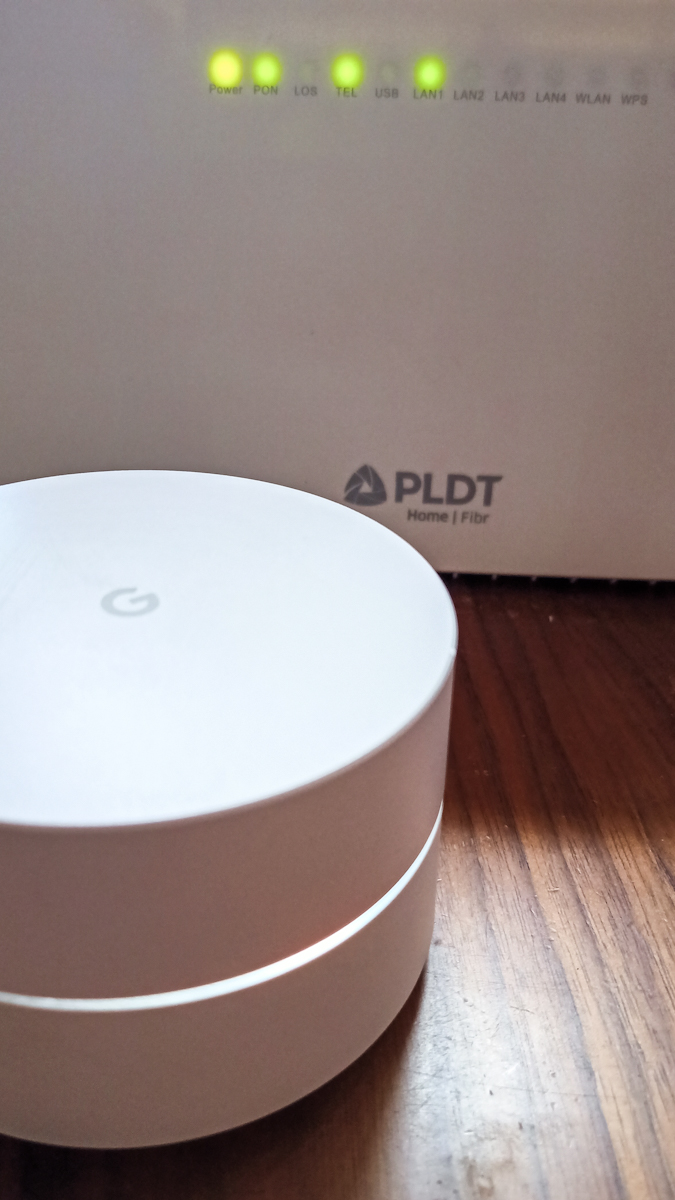 Setup and installation was a breeze. Check out Google's guide for setup and installation here.
I have a single pack for our house. It's more than enough to cover the entire abode and still be reliable. After I downloaded the needed app, all I had to do was take the device out of the box, plug in the power cable and then plug in one end to the included ethernet cable to the LAN 1 port of the PLDT Home Fiber modem/router and the other end to the Google Wifi ethernet port. 
That's pretty much it on the hardware end.
Once you launch the app (available for iOS and Android), you'll be guided through for the rest of the steps. I'd say I was online in less than 10 minutes. And that included the time I took a break to make myself a peanut butter sandwich. Yes, I took a break. I got hungry. 
What I like about the entire system is that it's dead simple. Once you've configured it all via the app, everything's else happens from behind the curtain. There's only one SSID (the network name of your wifi) to configure.
What I like about the entire system is that it's dead simple. Once you've configured it all via the app, everything else happens from behind the curtain. There's only one SSID (the network name of your wifi) to configure. You don't have to name one for the 5Ghz band another for the 2.4Ghz band. Just one name to rule them all. Google Wifi will auto-sense your device's connection and it will automatically connect your device to the appropriate band. 
The other thing that I like about the system is that speed is reliable and stable all the time. And if need to perform a speed check, you can do that as well from within the Google Wifi app. Of course, you also use other internet speed checking apps or websites. But the convenience of having one within the management app is a plus. Oh, and the speed check can either be a check on the internet speed itself or a speed check on the internal network which consists of your devices. 
After about 6 months, give and take, of using Google Wifi, it's easy to actually forget that it's there serving up your wifi needs. It's there consistently, reliably delivering that right internet connection speed as if you're directly connected to the PLDT Home Fibr modem/router. 
Now, if only I can get two more Google Wifi points so I can bridge over to the work studio that's on a small separate structure from the main house. 
Featured image is a photo by Andres Urena on Unsplash.