Rise & shine!
We woke up early on the second day for aquick breakfast at a cafe in Cloud 9. Gotta get that dose of caffeine before heading out for the tri-island tour for the rest of the day. So, there we were at Cloud 9 at around half past 7 in the morningat Cafe Loka. I can't remember anymore what he had exactly. Probably because my brain was still on its boot-up process while we were there. I did manage though to take a couple of photos. Literally.
So, brain boot-up almost done. We motorbiked ourselves to Bravo Beach Resort. This was today's meeting place for our tri-island tour with My Siargao Guide. You can opt to book your tour with them via their Facebook or Instagram accounts or visit one of their partner establishments to book at tour. We booked ourselves for a "Joiners" tour at Fat Lips Surfshop. My Siargao Guide can also do a private tour just for you or your group if you don't want to mix it up with other island visitors. Personally, it's a better experience to book a tour with other visitors. You'll never know how things will turn out with such a great mix of people and cultures. There were 10 of us in our tour group. A mix of Israelis, Australians, Canadians and us two, Filipinos.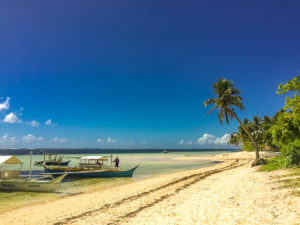 Our tour guide for that day was Sabrina. She's Italian (or was it French, I couldn't remember anymore). She's in and out of the island. She came to Siargao a few years back and learned how to surf from one of the first local surfers that learned from the first Australian surfers who stumbled into Siargao.
First stop of the day is Guyam Island.
Guyam Island is about 15 minutes away from Bravo Beach Resort. The boat ride wasn't bumpy at all. At a distance towards the great open ocean of the Pacific, you'll see a wall of white. The "white" being a constant breaking of waves coming in from the Pacific and breaking against, I think, the reef outside of Siargao. But it could be something else. I just know there's that mysterious "white wall" out there. Anway, Guyam Island is small. You can walk around the island in less than 15 minutes during lowtide. There's not much to see on land, to be honest. Snorkeling sounded fun but the area around the island is pretty much just sea grass. At least it was clean and not littered with garbage.
I managed to take a 360-degree photo of Guyam Island from the opposite side of docking area.
After about 45 minutes on Guyam, we moved on to Daku Island. As the name suggests, it is definitely bigger than Guyam. It's another 15 minutes or so of a boat ride from Guyam to Daku. Along the way, and if the conditions are right I guess, you'll see swells near Daku Island that are big enough for you to surf on.
Daku Island, when we arrived, was a parking lot of boats. Every boat that every tourist on the island was docked on its shores. That was pretty disappointing for me. I couldn't understand why they all had to cram themselves in on the shores. Wouldn't it have been better if they just dropped off their passengers then backed out and anchored themselves a bit farther off shore. That way, the shores doesn't look like EDSA on a Friday evening during payday.
Lunch was served at Daku Island and this was where our stay was the longest. Lunch was prepared by the locals of the island. Yes, there's a barangay in Daku Island. Apparently, My Siargao Guide has formed this win-win relationship with some of the locals where food is ordered from them. So they earn out of the tourists that arrive on the island and My Siargao Guide doesn't need to worry about how to serve food to their guests. We had pancit, kinilaw and grilled fish.
Finally, off to the final island to visit. Naked Island. Naked because, well, it's literally naked. Devoid of any trees. It's just a sandbar really. The good thing though is that it doesn't go under the water during high tide. Well, at least, not yet. Not until a significant rise of sea levels. Until then, there's always a possibility of actually camping out on that island on a moonless night and, hopefully, get to see the sky looking like a backlit canopy with holes punched in it.
And that was that. After Naked Island, we all went back to Bravo Beach Resort. Wwell, not exactly because it was low tide already. We docked a few hundred meters away from Bravo Beach Resort where the water was still deep enough for the boat to come but still shallow enough for us to just wade back to shore. Three islands. One day. One thousand pesos. Not bad at all. Not bad.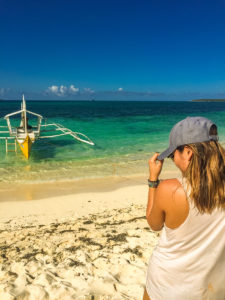 By the way, when you're in a My Siargao Guide tour, care for the environment is paramount. Each one gets a plastic cup and you write your name on it and that becomes your cup for the rest of the tour. Plus pogi/gwapa points if you bring your own reusable container.