Here's that tease from Ford Philippines' YouTube page last February.
And if you're hungry for more, here's a video playlist from Ford Philippines that's all about the Ranger Raptor.

So, going back to my own limited experience.

About a couple of weeks back, social media influencers ground, Davao Digital Influencers, received an invite from Ford Davao. They were having the second year of their 3-day Ford Island Conquest at the Davao Crocodile Park.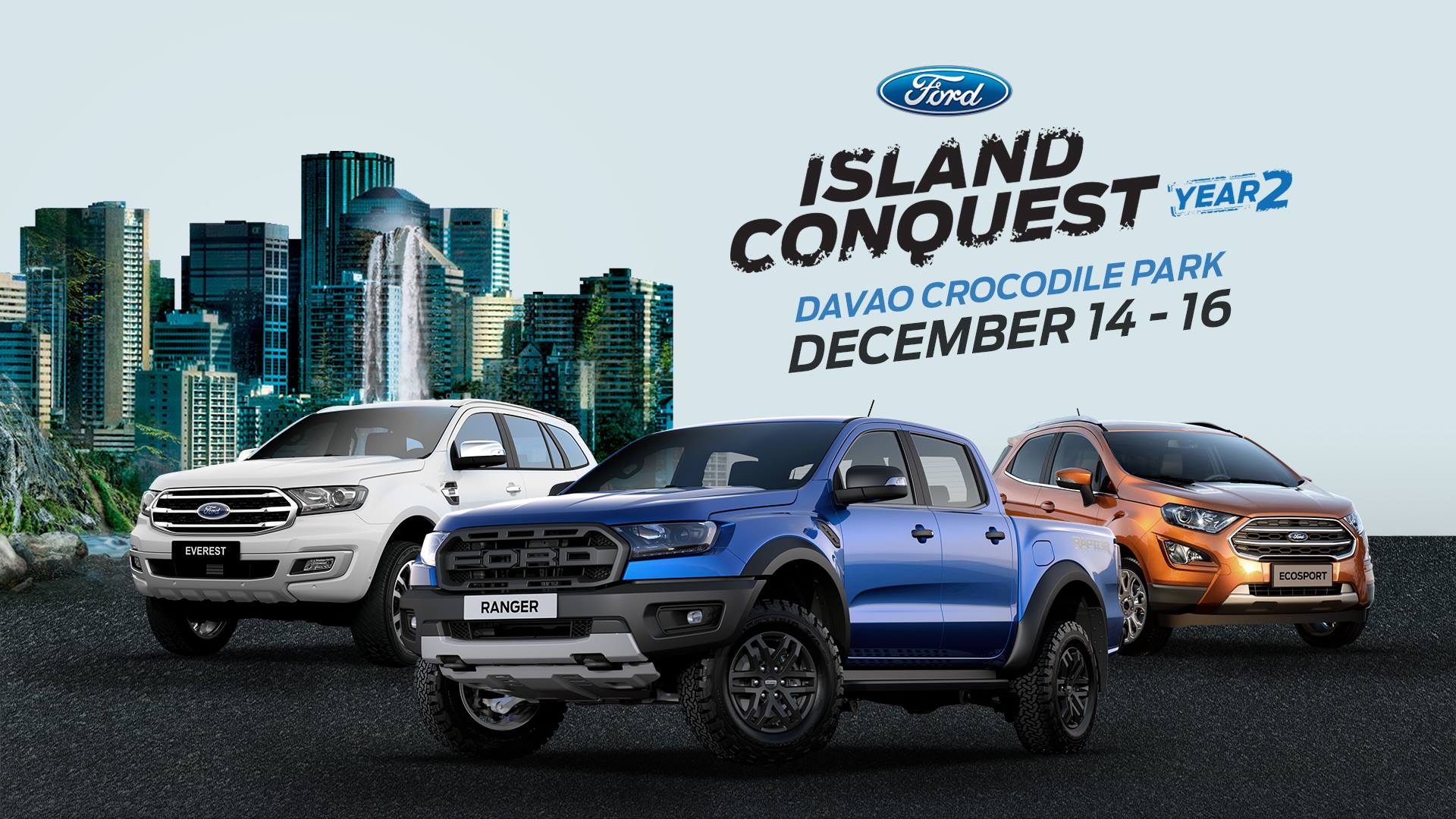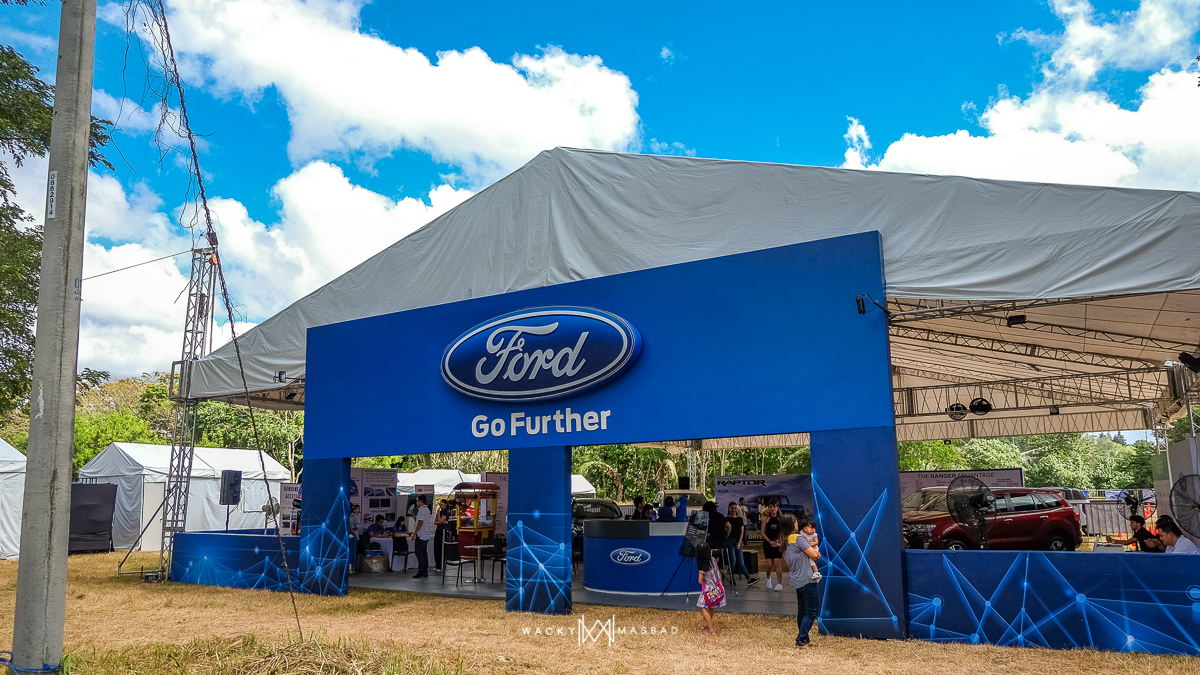 And this year, the star of the conquest is the Ranger Raptor. And, boy, is it one heck of a pickup. If you've seen one running around, you know what I'm talking about. It has an imposing presence. It's big. It's hulking. It's a headturner.
The Ranger Raptor!

That big, black grill seems to shout at you, doesn't it? Imagine you're on the road driving one of those compact cars. You look up to your rear view mirror and you see the Ranger Raptor. That bold and big front grill will be what you see first.

Once it passes you on your left side, you'll notice those fender flares reaching out to you. Look down a bit and you'll find out why the need for flares like those. Those are chunky All-terrain tires that seems to chip away from the asphalt as it propels the Raptor forward.

Once you get inside though, there's a different feel to it. Even though it has this rough-and-tumble exterior, there's this gentleness when you're inside. The backseat has enough legroom for me. And the backseat can comfortably seat 3 adult persons. I'm sure you can squeeze in more people if really want to.
There's a couple of power sockets behind the center glove compartment. If you the right adapters, these can easily provide power to your gadgets and knick knacks. It's a good thing to have for those extra long road trips or for when you feel the off-roading urge.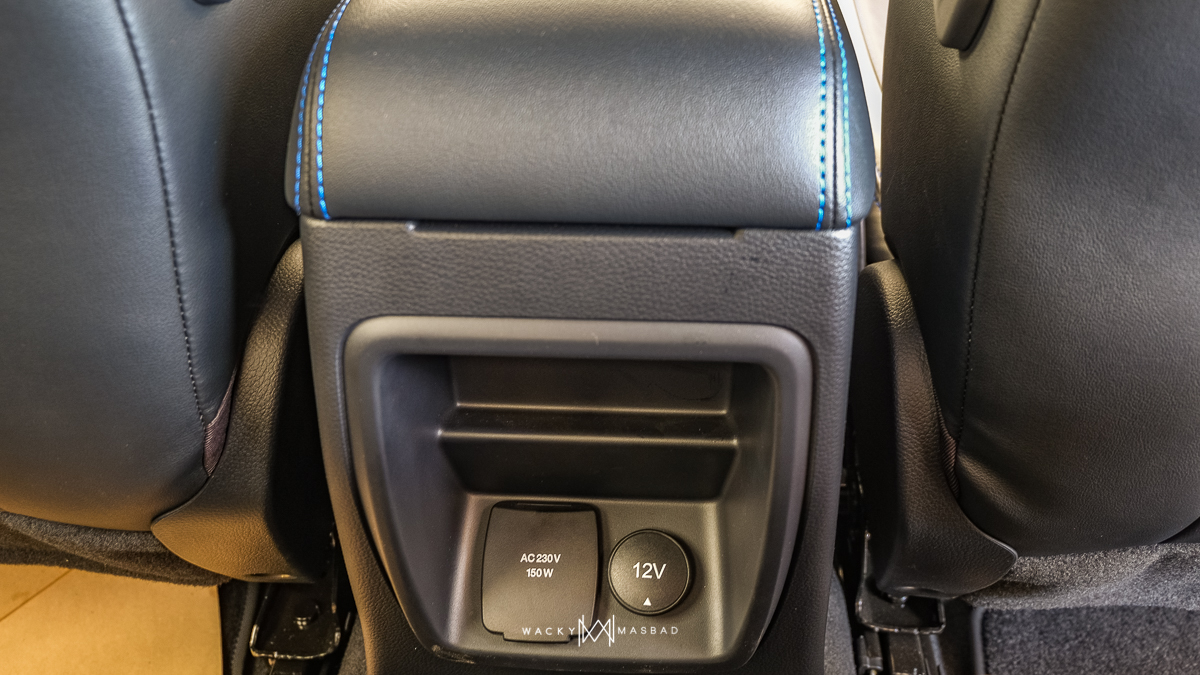 Moving up to the driver's seat. A bucket seat at that. It's not full leather. Most of the seat and the back rest is fabric. Ford's brochure says the front seats are "body-contoured Sports Seats". It's comfy and it's electronically adjustable for the driver. I think this should come standard especially for this vehicle's price tag.
The steering wheel is filled with control buttons along with the paddle shifters behind it. If you're crawling down a steep slope, making sure your hands are on the wheel is important. I know it's important as well that you have full control over your music, so there's a button or two as well for that on the steering wheel.
The 4-wheel drive control knob is down on the center console where the shifter is. And just on top of the knob are three control buttons for Traction Control, Rear Differential Lock and Hill Descent Control.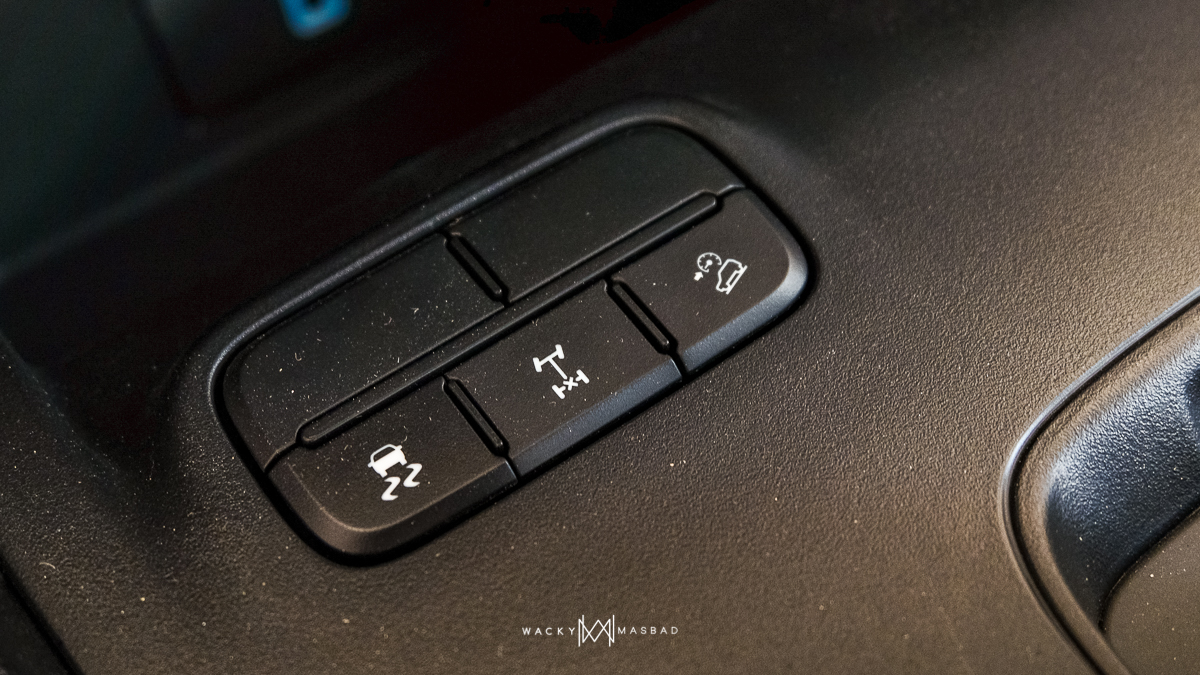 It's a shame though that I wasn't able to test out Ford's SYNC3 on that pickup. The display unit that I was taking photos of was just there for display. And I couldn't really test it out during the test drive of the Ranger Raptor. That test drive was just too short for my taste. I'm hoping though that the angels at the Ford Davao dealership will let me test drive a unit for a week or two.
Anyway, let's just move on and talk about how it went down during the test drive.
The test drive

After a quick registration at one of their booths there for the test drive, I was all set. They just had to take a photo of my driver's license, asked me to sign a waiver and then they gave me a queue number. My number was called and I strapped myself into a Frozen White Ranger Raptor. A guy from Ford was riding shotgun with me. He guided me through the short dirt course they set. He also talked about a few of the major features of the pickup while we were out on the course.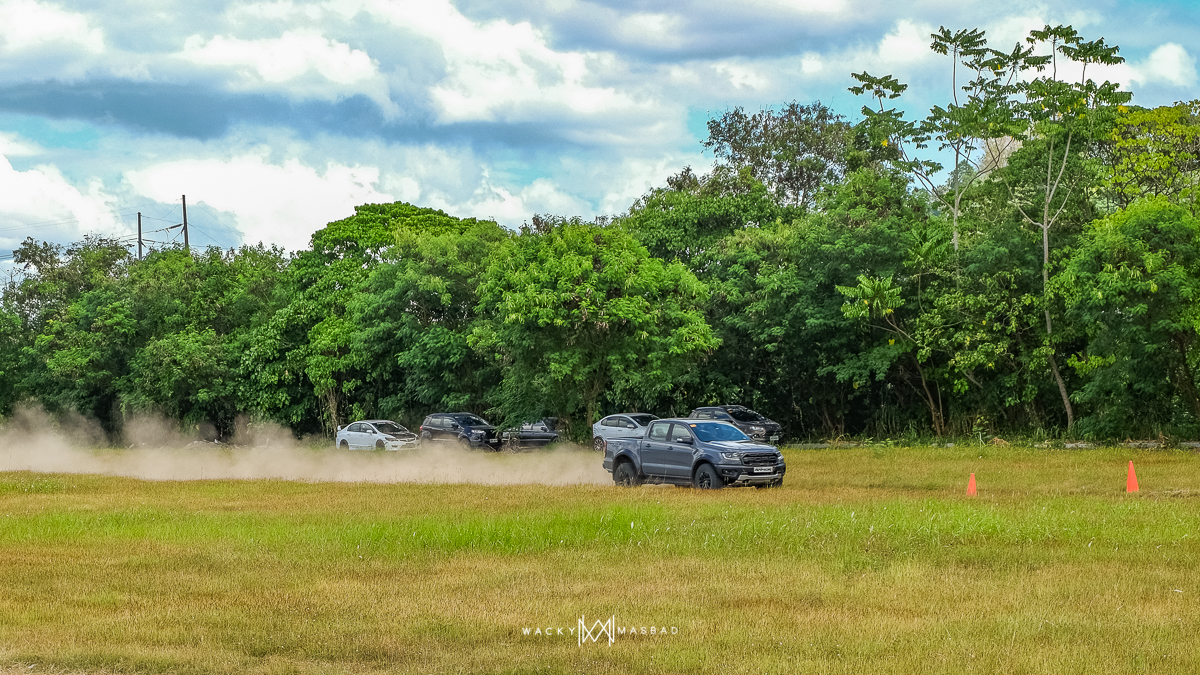 The first part of the course was a straight and he told me to feel free to step on the gas. I gunned it and, wowza! It wasn't really head-to-the-headrest kind of acceleration but for a big pickup truck, that was something. The bi-turbo diesel and the 10-speed auto didn't have that much trouble.
The steering was light and easy even though the road wasn't as smooth as the Skyway. Light and easy as well considering that it weighs more than 2 tons. My fiancé asked me how it was, I told her that it was like driving a small car but you're still reminded of its size when you're looking out to the hood.
After a few turns here and there, we come up to a wide turn to the left. My co-rider tells me that I can gun it through the wide turn. I did. Raptor turned well. The backside tracked behind and I didn't feel any slips and slides. Well done!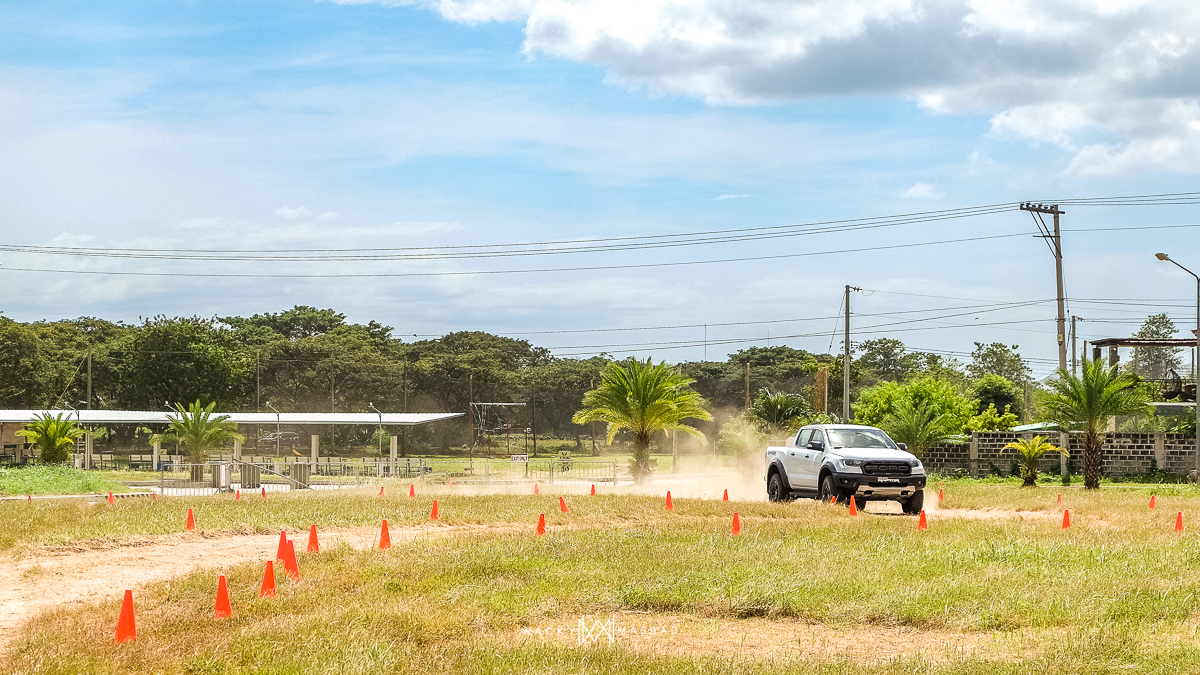 After that wide turn, we slow down and come up to a low hill. We got to the top and stopped for while. Co-rider explained to me that this is where we can demo the hill descent assist feature. I pushed that button by the shifter, shifted to D and eased the pickup to the edge of the hill until it starts to creep down. You can hear the assistance system come alive through the breaks. It activates the breaks to control the rate of descent affording you a degree or two of control.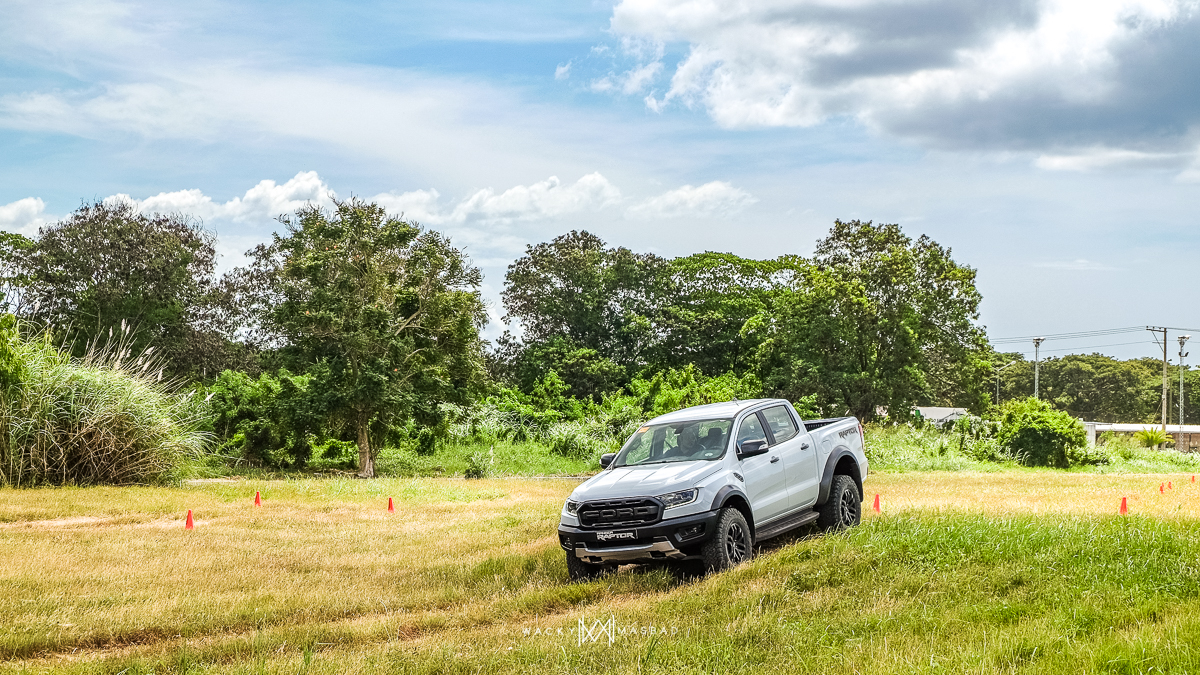 After the descent, we step forward to a "start line". This is where we test out the ABS system when there's a need to stop right away. So, from a complete stop, I stepped on the gas pedal, the engine growled and we were on our way. There were rubber road obstacles on that part of the course to simulate uneven road surface. Suspension did a fine job handling that.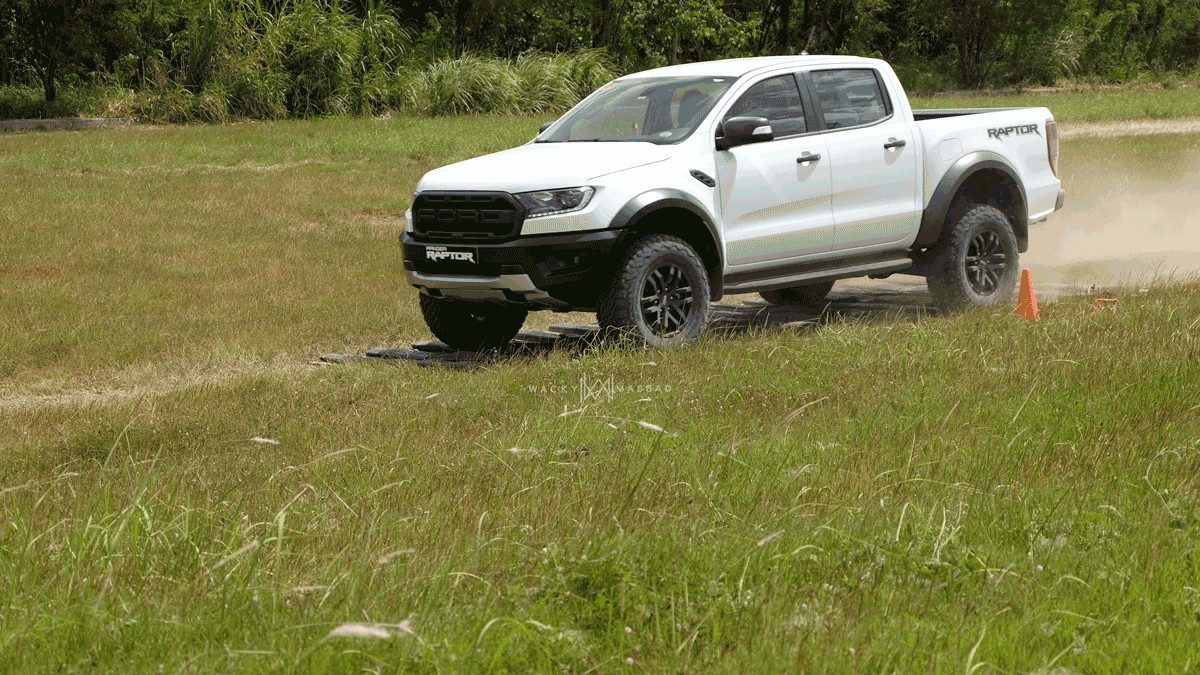 And after that, I stepped on the brakes and came to a full stop only a few meters after. I don't remember the Raptor dipping it's front end too low during the emergency stop. And I didn't get any swaying and sliding to the side of the rear end. No rocking as well when the pickup was in a standstill. That made me smile, to be honest.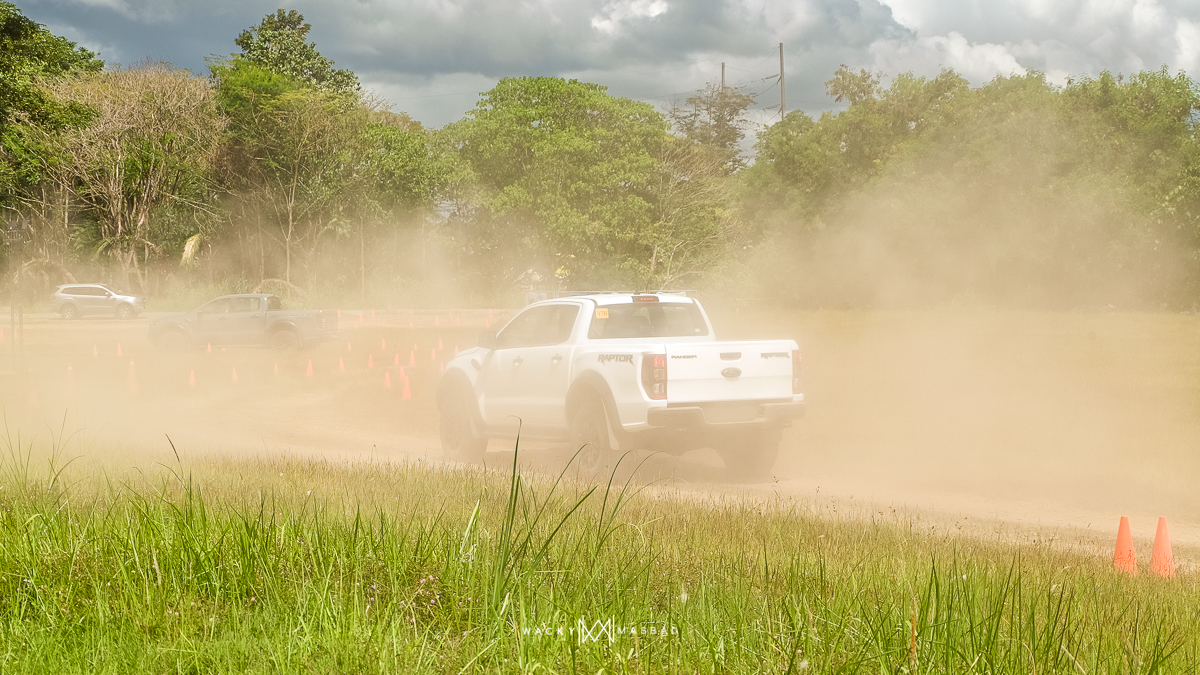 After that emergency brake test, a series of elevated obstacles. I was told that the obstacles was as high as standard sidewalk. Engine power paired with Fox suspension below and it was a walk in the park for the Ranger Raptor.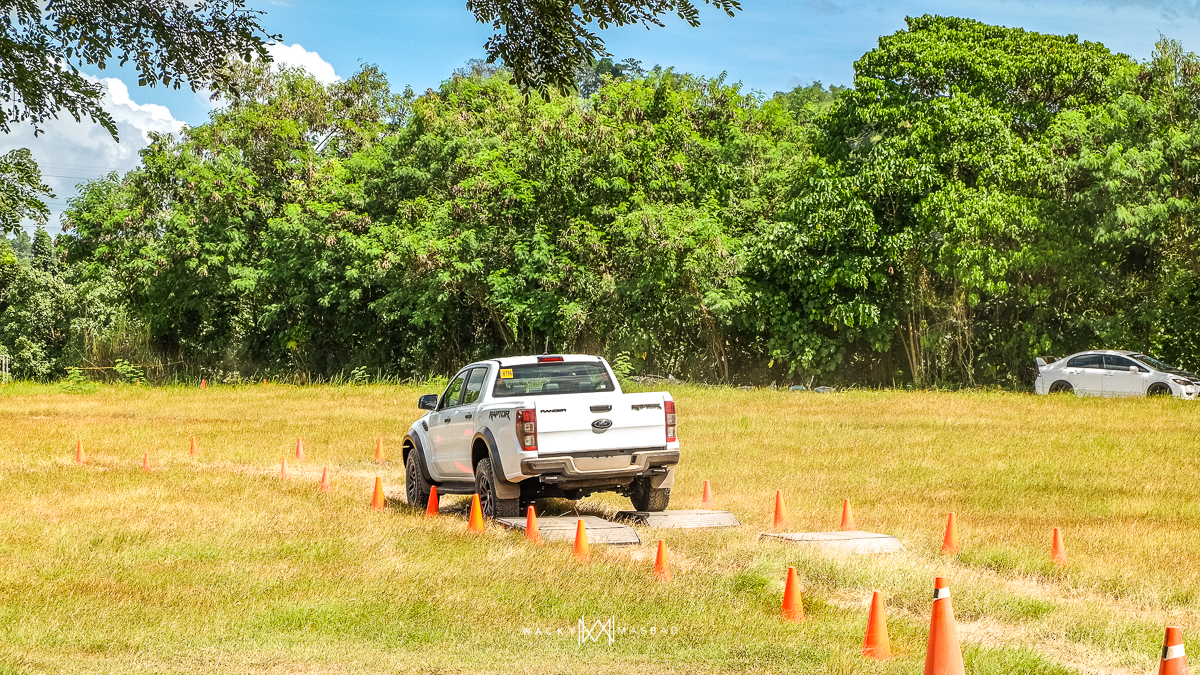 Final thoughts and photos

This is one awesome piece of machinery. I think it's well engineered and it performs well enough with that make shift dirt course at the Davao Crocodile Park ground.
I wanna take the Raptor to the boondocks though. I wanna have it try to wade through a river. I wanna drive it up a hill and then down again. I wanna also see how it will hold up to loose beach sand. In fact, the Paoay Sand Dunes come to mind. Those are things that I think this pickup should be tested against. If there's something like that happening here in Davao soon, I'd like to participate.
Also, I wanna test out Ford's SYNC system. How well does it pair up with our devices and how usable is it in the Philippines? We see a lot of great tv ads about it but it's mostly in the context of the US or UK or EU. How well-informed is it in relation to Philippine roads; more specifically Davao roads. In addition, I'm wondering how the steering wheel controls affect driver performance. At some point, those buttons can get really overwhelming for the driver. Too many buttons. Info overload? I don't know.
So far, from my very limited time with the Ranger Raptor, I like it.
Will I change my mind if I spend more time with it? That's the more interesting question.