Over the course of the past two months or so, I've been following the release of the Fujifilm X-T3 in the international scene. I waited for YouTube videos to come out as media events are held in the US and the UK. I checked written first impressions and short reviews of the camera. And as I watch and read more about it, I've gotten more excited about getting my hands on it event for just review purposes.
Finally, last October 19th, Fujifilm Philippines together with one of their ambassadors, Niko Villegas (a good friend), came to town and held a two-day bonanza. The first day was dedicated for media and v/bloggers to experience the X-T3 and the X-T100. Luckily, I got a spot on the media event (thank you ate Jojie Alcantara for the invite) and my excitement was electric.
I currently have the X-T10. I have no big complaints about it, really. It's a capable camera and if you can still find one that's brand new, I'd still recommend that you get one. So with the X-T3 coming into the scene, I'm excited to find out how this camera handles and performs.
Media day came and we all hunkered in at one of the function rooms of Seda Abreeza Hotel. And there they were in one side of the room. Sitting all pretty and aching to go were a number of X-T3 and X-T100 cameras flanked by a number of Fujinon lenses that you can pair it with. One caveat though is that the cameras were still pre-production units so there's a small possibility of a few quirks and kinks.
X-T100
The X-T100 is, to me, the more casual camera of the two. Initial impressions for me: compact, light, great for daily usage. The flip-out LCD screen will definitely come in handy when you're out taking selfies. And since the LCD screen also tilts, getting into those awkward angles without contorting yourself will be much easier. If you're a tall person with equally long-ish arms, you can easily raise the camera above everybody's else's heads and phones when watching a live concert while still able to clearly see what the camera is seeing. Better shots, in the end for you. The tech spec sheet looks good on paper. What I'd really love to do here on is to test it out in real world scenarios to find out how easy it will be to use and how best one can maximize the camera.
Here's the X-T100 beside my fiancé's X-T10. The photos was taken with the X-T3. The file is the X-T3's JPG output (as I was shooting in RAW+JPG mode) then resized and watermarked in Photoshop. No editing done. Here's a screenshot of the original file beside the RAF file and the JPG file's meta info.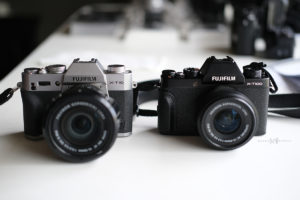 Check out the promo video for the X-T100.
X-T3
Here comes the big boy. The X-T3 is what I chose to play around with during the event. It's a lightweight camera especially when I start to compare to my old reliable Canon 7D. Definitely SO SO SO MUCH LIGHTER than that hulk of a 7D (compared to the X-T3). It felt good in my hands. Plenty of grip on the body even without having to use their battery grip or hand grip. The weight is just right in my hands. There's just enough heft that it doesn't feel like a toy camera.
The physical dials and controls are where I'd expect them to be for a Fuji camera. The menu system though was something I needed a bit of time to get used to. I'm usually a fast learner when it comes to these things but this was a bit harder than usual for me. Perhaps on an extended period of using the camera, I'd become more familiar with. Some of the reviews I've read are touting the X-T3 as a "jack of all trades" camera from Fuji and judging by the tech spec sheet, it's quite possible. There are gripes on this camera but I'd like to know more if this really is something that will affect usage or, at the most, something that will affect your creativity and artistry. I'd love to dive in more into that if and when I am able to secure a unit to review.
Here's the promo video for the X-T3.
Overall, these two cameras are paving for exciting times ahead for Fuji and its fans. And if you're someone in the market to get a brand new cam, it wouldn't hurt to check out these two as options. In fact, there are several other cameras in the Fuji lineup that will most likely meet your needs.
As for the case of the X-T3 and the X-T100, I can't make my recommendations just yet until I'm able to be properly spend some quality with the both of them.